Stories About the North by Angus Cockney...
"Inukshuks, the mysterious Inuit-made sentinels of the tundra, seem to capture the indomitable Arctic spirit. They're fast becoming a symbol of the North, used both in art and in logos and other commercial designs. But the real messages of inukshuks have a fascination of their own, as artist Angus Cockney discovered when he began a search for his heritage. "
-Angus Cockney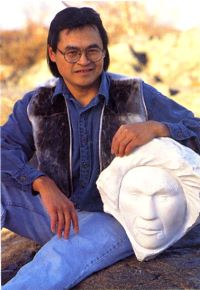 **Note: A PDF Reader is required to view and print PDF Files. Most modern browsers have a PDF reader installed by default. If you cannot access the PDF files on this page you can get the free Adobe Reader by clicking the button below.

Engaging Stories
Inuit sculptor and multimedia artist, Angus Kaanerk Cockney, has authored several facinating stories and articles for magazines, newspapers and for support to his lectures and speaking tours. A sampling of these stories is available for download in PDF format from this page: