Angus Cockney Works With Traditional and Modern Materials...

including marble, glass, steel and computer-generated graphics.
Unlike most Inuit Artists, Cockney prefers to use Italian marble rather than the traditional soapstone "
-The Montreal Gazette, Reviewing 'The Inuit Non-Confrontational Mask', Masters of the Arctic Display, Complexe Desjardin.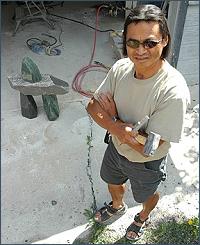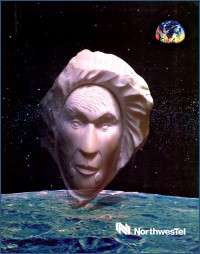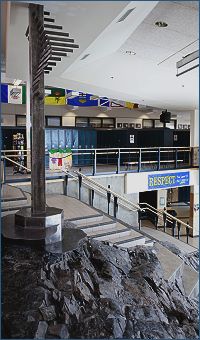 Born Inuit
Born an authentic Inuit in Tuktoyaktuk at the edge of the Beaufort Sea, Angus Kaanerk Cockney was too soon taken from his home to a "foreign place" - the residential school in Inuvik. This experience was to have a profound effect on his subsequent artistic expression and practice.
Contemporary & Traditional Perspectives
While most contemporary Inuit art embodies the the past, Angus Cockney's work incorporates contemporary Northern values while drawing much from his own personal experience growing up in the North and being subjected to a residential school system.
"I still portray our mythology and beliefs, but that myth is being is being interpreted differently" says Angus. Cockney brings a highly considered approach to his work that strives to dispel old myths and stereotypical perceptions about the Inuit and their traditional way of life.
The Inuit have always been a hands-on type of people... Like all Inuit artists, I picked up some tools and started carving stone."


- Artist Angus Kaanerk Cockney
Angus is more than cognizant that the traditional Inuit ways have largely disappeared or changed radically in less than two generations. Loss of language is highly symbolic of this change in Cockney's mind and is reflected in many of his pieces. As Cockney says, "Virtually no one of my generation can speak the traditional language anymore."
The Icewalker
Angus Cockney's artistic expression has also been profoundly influenced by his participation at 32 years of age in an international expedition to the North Pole.
Angus Cockney doesn't recommend the North Pole for sight-seers."


- The Ottawa Citizen, May 17, 1989 interview with Angus Cockney on the successful completion of the ICEWALK expedition.
The 1989 "Ice Walk" as it was called, involved a team of 8 adventurers from separate nations skiing for 56 grueling days across the frozen Arctic Ocean under unimaginably extreme weather and ice conditions. "Transformation is a common theme in Inuit mythology...when I think back on my journey I felt I was being transformed - from man to eagle to polar bear" says Cockney. The adversity of the trip and the determination to overcome it to successfully reach the goal have shaped Cockney's approach to his artistic endeavours and has provided strong foundations for his motivational speaking engagements.
Stone Meets Silicon
Today Angus Kaanerk Cockney works from his Rocky Mountain studio in Canmore, Alberta. He has developed relationships with commercial galleries and has completed several major commissions as well as exhibited and spoken internationally. Trained as a multi-media artist, he is as comfortable with the digital world as he is telling his stories of the far north in stone carvings.